6 min read
"The times they are a changin'," a wise poet once said.
For the Credit Union cooperative, the world of digital strategy and member experience looks a little different than it did just six months back.
Amidst video banking, loan-deferral programs, drive-through branches, and CERB, your Credit Union minds have been bubbling (more active than a batch of Martin Reed's quarantine sourdough starter, some might say).

We at Aequilibrium wanted to play our part and add to this chorus of cooperative innovation by providing some competitive insight.
Over two weeks in April and May, we ran a poll within the Credit Union community. We asked daily questions to get those bubbling minds thinking outside of the branch, and into the accelerated future of digital banking.
The results are in—and we've done the math—now we're ready to share what we heard back to all the other cool kids in the Credit Union playground.

Banking websites that made you digitally drool.

What can we say? For all the cooperative do-goodery, sometimes Credit Union folk get just a little jealous.
When it comes to online banking sites, nothing made our respondents drool more than seamless omni-channel experiences.
The Wealth Simple platform was a crowd favourite, and it's not hard to see why; showcasing our respondents' preference for digital baking offerings that empower members through modern story-telling and sleek user experience design.
Additional features like digital onboarding, chatbots, and dedicated COVID response functions were popular as well.
Billion-dollar mobile banking ideas.
Not everyone can have billions like Warren Buffet; but we're dreamers, and it turns out you are too.
If our respondents had endless capital to spare before the crash, those billions would have been funnelled directly into enhancing their mobile banking applications.
From customized budgeting to enhanced way-finding, and then way over to detailed spending analyses and built-out credit card integrations… Oh, and it would hardly be a Credit Union poll without a suggestion or two for some community giving capabilities; like spare-change round-up initiatives for charitable donations directly through the app.
Digital's place in Credit Union crisis management.
On day three we asked our participants to pick a number between one and ten as to how valuable their digital channels are now, and if they see that shifting after this accelerated D2C surge settles.
Let's just say, everyone picked a two-digit number and no one sees that changing anytime soon.
If there's one thing that this crisis seems to have taught us, it's that digital is no longer optional. All 100% agreed that digital is here and not over there any more.
Side-effects of the digital blue.
Some of the after-effects of this crisis on your Credit Unions' day-to-day have been predictable: small hiccups in the transition to online-only, surges in activity related to government benefits, and altered member-spending activity.
Some side-effects were a little more unanticipated.
In keeping with the cooperative spirit, our participants were impressed with the industry's immense capacity for innovation in the face of necessity. From teams shifting seamlessly to a work-from-home setup, to Credit Unions and banks globally making swift changes to adopt a digital-first approach.
Put simply, how well the financial services industry has adapted has coloured Credit Unions impressed.
Dealing with the digital non-natives.
Our Credit Union friends may have adapted quickly, but the same can't quite be said for those that they serve. This crisis has been a steep learning curve for many banks and Credit Unions, but it's important to remember that this is a whole new world of accelerated digital banking for your members too.
Unfortunately, some habits are hard to break. 67% of our participants' members are holding fast to age-old methods; filling phone lines with questions like, "Tell me one more time, how do I pay that bill online?"
Member experience wishlists.

It's a hypothetical Credit Union Christmas and we wanted to know what was number one on our participants' lists.
It seems our Credit Union friends have a rather holistic approach to their member experience strategy, with everything from virtual reality capabilities, AI chatbots, and a state of the art in-person branch making the list.
However it was the pairing of digital innovation and in-branch experiences together which seemed to really stand out.
As one of our participants aptly responded,"You don't shop for a new car online, and then go to the used car lot of the same dealer."
Changes to technical resourcing budgets.
At a time when businesses globally are restricting, reshuffling and rescoping their operational budgets, the financial services sector is similarly on the move.
… It's just that we in FinTech seem to be marching confidently in the opposite direction to much of the status quo.
We asked our participants how events transpired will be influencing their Credit Unions' digital budgets, and 50% responded that they will be tapping into their long-term capital to grow their digital experiences moving forward (with no digital budget cuts in sight across the board).
Word on the street is, it's mo' money for digital.
Supporting members' social distancing by adapting the payment process.
Many establishments have made the switch to card-only during this crisis. As such, financial institutions are finding innovative ways to support their members in achieving safe socially-distanced payments.
A popular initiative globally has been to increase card tap payment limits to support a no-touch approach to the transaction process. Our poll found that about half of Credit Unions surveyed are following suit.

Some Choices Matter: Credit Unions are holding steady to their values.
The Credit Union space is full of cooperative do-gooders, and our participants were very happy to share their 'do-the-right-things' that their Credit Union has done during this crisis.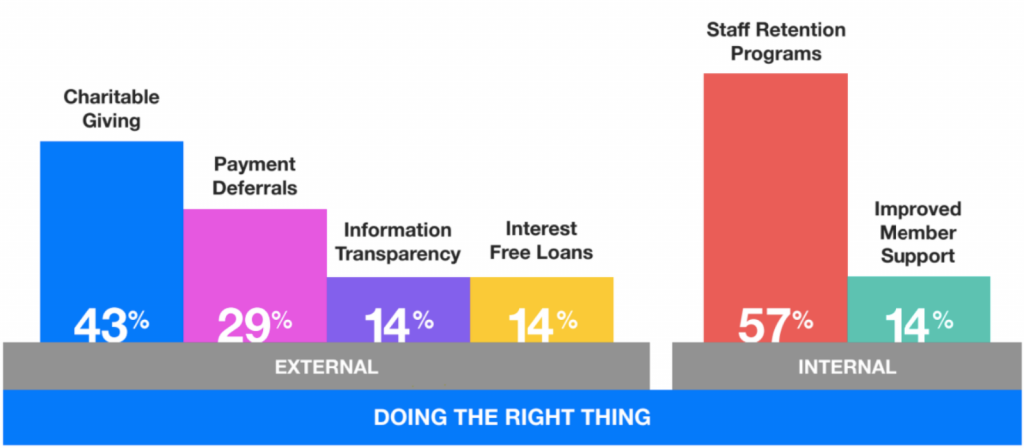 Whether it's supporting their members, small businesses and unions, their staff, or local charities, this crisis has been a great reminder of why Credit Unions should be preferred.
To Forge or not to Forge?
2020 was always going to be a year of big change for the Canadian Credit Union community, seeing the migration from Member Direct to their new online banking platform of choice.
Despite this year's curveballs, most of our participants are Forging ahead with their digital platform migration, but some are still foraging for a digital banking solution.

Thank you to all who participated in our poll: