4.9 min read
2020 brought in a new level of uncertainty about the future of physical branches, especially when it comes to consumer habits and expectations. And that's why branch leaders must adapt to a future where in-branch services and resources continue to evolve. Banks and credit unions are using lessons learned from the previous year and looking to push forward with new strategies, technologies and best practices. If you're planning to accelerate your branch optimization strategy, we have something for you.
At Aequilibrium, we've been partnering with financial institutions across North America since 2012 to help them innovate, and accelerate their digital transformation goals. We're expanding our reach into the US sponsoring an exclusive virtual event ⎼ Future Branches Virtual Summit 2021. 
This free event is brought to you by the organization that puts on both NetFinance and Future Stores. Future Branches brings together senior financial services professionals responsible for retail banking technology, experience, and strategy. 
Sounds exciting? We are, because this year Future Branches will be covering everything from using analytics to data forecasting to redefining what customers want from a branch experience, and picking the right technology for branch optimization. Here's why you want to sign up:
Three Reasons to Attend Future Branches
Meet us and 130 banking leaders: Why miss a chance to mingle with a diverse set of strategy, operations and customer experience executives from leading financial institutions? It's rare to find senior-level executives from the banking and credit union community united on one platform. We're excited to hear their insights on how they are approaching branch transformation. 
We're looking forward to action-packed panel discussions and interactions:  Post-pandemic, meaningful virtual engagement is key. We took a look at this year's event agenda and it seems like Future Branches has got this covered with relevant, informative presentations and roundtable discussions. Here's an example of a not-to-miss one: Retail Branch Strategies in 2021 and Beyond with the CEOs of Together Credit Union and Chelsea Groton Bank). We're all set to attend one of the many.
Learn about the latest banking technologies (yes, we're talking about branch optimization):   This event is going to be one of the opportunities where we get to understand how banks and credit unions are adapting their branches based on the significant changes taking place in the industry. If new technologies are an area of interest, we're featuring a webinar at Future Branches on customer flow technology that leads to better workforce management. Did you know that customer flow data leads to AI/ML driven forecasting which helps anticipate client needs? 
We are hosting this webinar "Remarkable Customer Experiences With Safer Check-Ins" alongside our partner — Wavetec's Leandro Blank and AEQ's Kelly West and Michael Austin. We'll be demonstrating how you can improve customer experiences with integrated queue management and appointment booking. The demo will show how using this customer data can improve operational efficiency in the bank with better workforce management.
Here's a sneak peek of what you'll learn: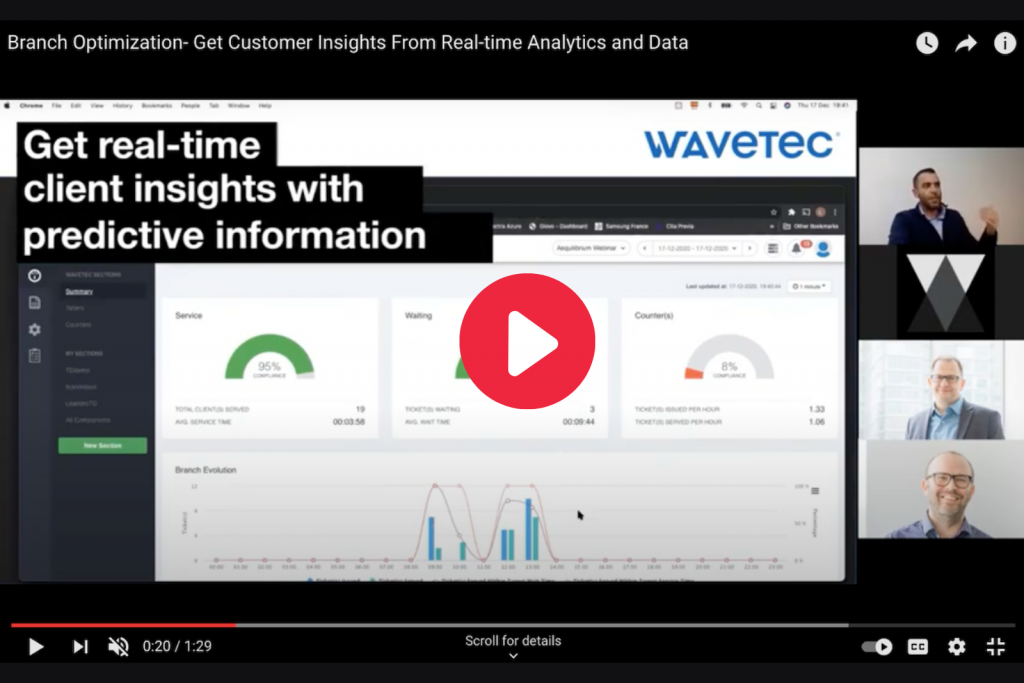 How to forecast, optimize & benchmark multiple branches 

How to improve efficiencies and lower IT costs with ML and AI-driven forecasting

Boosting staff productivity with integrations, analytics and better teller management
Banks, including HSBC, are using the Wavetec solution to transform their physical banking experience with digital visitor check ins and line up management solutions. So don't miss out on learning their use case. 
There's an exciting free giveaway contest as well! (Are we shamelessly bribing you? Why yes.) View our webinar at the Future Branches event and participate in our survey to win our West Coast Survival Kit including our cool (and warm) Aequilibirum hoodie, umbrella & mask.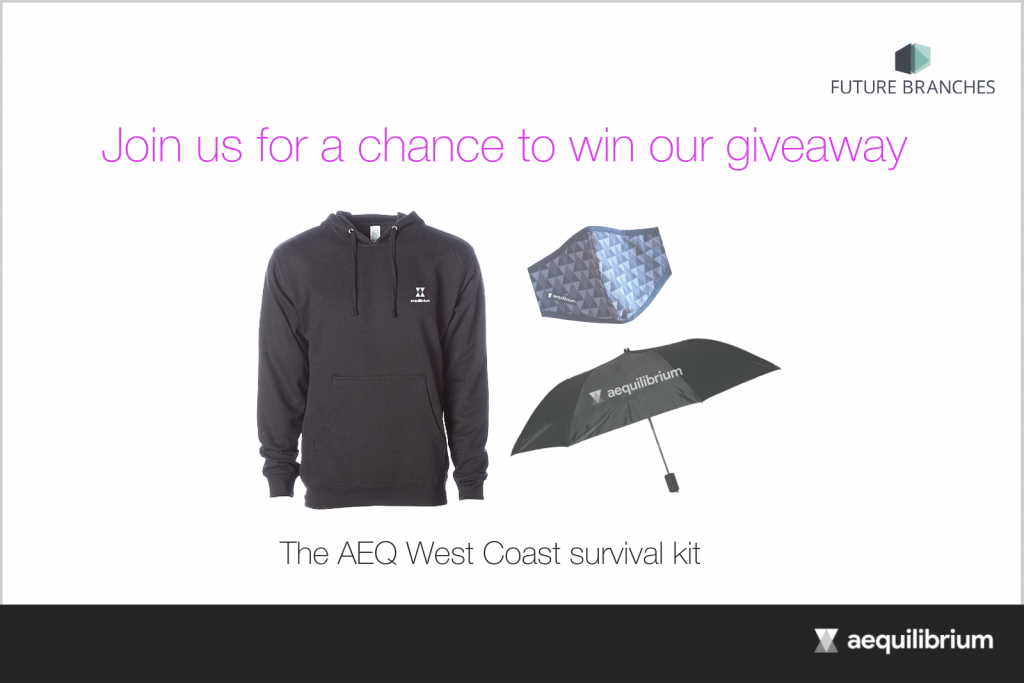 Event registration is free
.
Don't miss this chance (we won't either) to benefit from tons of interactivity, think tanks, roundtables with the best of branch leaders and innovators. See you there!